Disabled United in Direct Empowerment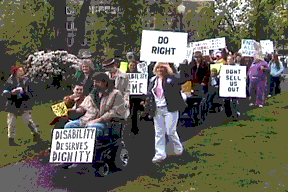 SUCCESSFUL ADVOCACY BY AND FOR THE DISABLED

Fighting for Oregonians with disabilities since 2003
NEW!
Click on poster image to get PDF download; 165Kb.
---
Fifth-annual DUDE Celebration and Fundraiser:



CelebrateABILITY





Of Course You're Invited!



October 1st, 5 p.m. 'til the party's over!
Ashland Historic Railroad Museum and Ashland Center for Transformational Events (ACTE)
258 A Street (In the A Street Arts Building Suite #7), Ashland
(Accessible entrance via rear alley way.)

Join us for munchies, art work, live music, silent auction, raffle, awards, prizes, and just about as good a time as we can get away with, and, of course, as always, our event is ACCESSIBLE! (through the alley entrance)

For the last five years, we've celebrated 'successful advocacy by and for Oregonians with disabilities' (DUDE mission statement) on a First Friday in Fall. It's our way to say thanks to all those who make our advocacy possible. So come on over and join us on the Ashland First Friday

Art Walk

, grab a

glass of cider

and some

munchies

, jam out to

live tunes

, bid on great deals donated by our generous local merchants at the silent auction, win great prizes in the

raffle

, meet new friends, enjoy yourselves and stay 'til the party's over!

Did we say

SILENT AUCTION

? Yes indeed! A growing number of local merchants, artisans, artists and angels have donated beautiful gifts just in time for the holidays, and the proceeds help us stand up for those who can't. YOU CAN HELP: Donate your artwork, craft goods, or gift certificate: DUDE is a 501(c)(3) charitable nonprofit and your gift is tax-deductible to the extent allowed by law. Call (541) 779-5151 or email dudeoregon258a@gmail.com to help us advocate for access and inclusion across the state for all, because everyone will join us in disability if they live long enough.

Again, YOU and all your friends are invited to join us at the Ashland Historic Railroad Museum, 258 A Street,(in the A Street Arts Building) on First Friday, Oct. 1, from 5 p.m. until whenever, for fun, engagement and a great time all around.

We will feature paintings from Studio Sfumato and other local artists, musical entertainment by well known local musicians: Hand in Hand Drummers (Afro-Cuban Drumming), Waterbound, Ax Prince, William Lawson, Milestone in Review (Bill Hahey, Craig Martin, Lori Plaxe, John Foster) and many more.

Thank you, and thanks to all our great volunteers and donors, this year and all past seven years DUDE has advocated for Oregonians with disabilities!

Look forward to seeing you there!
Corinne Viéville, Executive Director, DUDE (541-944-9600)

THANK YOU GENEROUS MERCHANTS AND INDIVIDUALS:

Bead Studio
American Trails
Standing Stone
Steel My Art
Wiley's World
Mori Ink
Ashland Mountain Supply
Sound Peace
Paddington Station
Wild Bee Honey Farm
Pennington Farms
Inti Imports
Wild River Soaps
Asae Speer
Naturals
StarBucks
Cripple Creek
Bug A Boo
Glennie FeinSmith
Allyson's Kitchen
Oregon Shakespeare Festival
Rare Earth
Cucina Biazzi
Bloomsbury
Lithia Park Shoes
Houston's Custom Framing
Geppetto's
Heart & Hands
Pro Wireless
Travel Essentials
Rogue Valley Symphony
Arm Candy - Wendy Gell
Maizey's
Gathering Glass Studio
Science Works
Llama Bones
Katrina's Cards
Flower Tyme
Northwest Nature Shop
Tree House Books
Salon Isabella
Mistletoe Self Storage
Ashland Ace Hardware
Red's Threads
Evo's Coffee Lounge
Bloomsbury Coffee House
Jeanne Louise Vintage
Anam Cara Gardens
O Hoe- Carol Maurer
We're All Nuts
Sherry's Pottery
Quick Silver Productions
Apple Cellar
Video Explorer
Land of Paws
B'ella
Salon Jewel
Dkor Hair
Judy Stanley
Tshirts your choice
Ravenscroft Essentials
KIXX
Bend Studio
Ashland Yoga Sanctuary
Studio Sfumato

Music By:
Sue Lundquist Afro-Cuban Drumming
River's Invitation
Bill Lawson
Chums of Chance
Ax Prince
Water Bound

---
DUDE's mission is to engage and organize
persons with disabilities to advocate through
education using media production and direct
representation, which will enhance quality of
life and human dignity, promoting access
to social and economic justice.

Table of Contents
What is the DUDE Bill?
DUDE Bill FAQs
Implementation In Your District
The DUDE Bill on Tour
Transportation
Accessible Housing
Health Care
Inclusion

I'm the Star but You're the Heavens: Meet the real Rain Man, Kim Peek, and his dad Fran

DUDE vs. RVTD: Save Route 4!


Disability Recreation Project


The DUDE Bill

Independent Living:

DUDE Goes to DASIL

Perfectly Mobile
Four years of DUDE actions

Articles about DUDE

Fundraisers


Calendar

Conventions


Fellow Travelers
Honored Funders
Associations
DUDE
successful advocacy by and for Oregonians with disabilities

258 'A' Street Suite #5
Ashland, OR
97520
email: dudeoregon258a@gmail.com

last updated Oct 2010
Thanks Impressions Unlimited for web design and tech support